Who We Are
Seven Fires Foundation is simply a means for people to reach out together and help other people!
In 2003 a group of caring individuals united together to help children and elders wherever there was a need. That quest led us to some of the most impoverished areas right here in the United States, our reservations. For 10 years we have assisted with basic needs like clothing, shelter and food. Our vision includes providing hope through the preservation of culture and tradition. And now we expand that vision to include empowering others through the revival ofteaching natural building techniques to illuminate the possibilities for everyone to live in a healthy, affordable home.

Get Involved
Cash is not the only way for you to Give. Your time, your skills, even your clothes will help others!
Money...Cash...Denaro...Moolla... Yes the green stuff is needed to carry out a lot of our work. Over 95% of every dollar donated goes directly to project funding! We are all volunteers with little operating overhead. Please give generously!


We are always seeking new or lightly used clothing, shoes and school supplies for all ages from infant to adult. Contact us on where your items are most needed today.


And of course if you have the luxury of time, volunteers are welcomed for various projects and needs throughout the lands. Join our team!

Spotlight Project:
Project "Geronimo" ~ Help us build a cob house for a family in Ecuador!.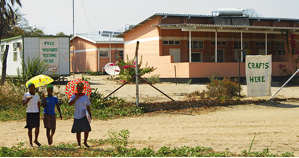 Geronimo is a single father with five children living in a 10x10 "house". Our team of natural builders have volunteered to travel to Ecuador and build a new Cob addition to make this house a home. With enough donations and volunteers, we might even be able to add a second story!